Posts for tag: oral hygiene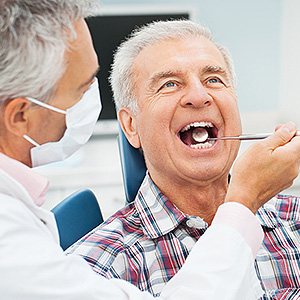 One thing's for sure: We're all getting older. Here's another sure thing: Aging doesn't necessarily look the same on everyone. That one spry octogenarian lapping younger folks on the track is all the proof you need. That's why September has been designated Healthy Aging® Month: to remind everyone that aging well is an investment you make throughout your life—and that includes taking care of your dental health.
Just like the rest of the body, your teeth and gums are susceptible to the effects of aging. For example, after 50,000-plus meals (about 45 years' worth), you can expect some teeth wear. A tooth-grinding habit, though, could accelerate that wear. If you think you're grinding your teeth (especially at night), we can fit you with mouthguard worn while you sleep that reduces the force on your teeth. Managing your stress could also help reduce this involuntary habit.
Aging also increases your risk for the two most common dental diseases, tooth decay and periodontal (gum) disease. Although different in the way they infect oral tissues, both can ultimately cause tooth and bone loss. Prevention is your best strategy—through daily oral hygiene and visiting the dentist regularly to keep the dental plaque that fuels both diseases from building up on your teeth.
You should also see your dentist at the first sign of a toothache, unusual spots on the teeth and swollen or bleeding gums. These are all indicative of infection—and the sooner you're diagnosed and treated, the more quickly you can return to optimum oral health.
Aging can bring other health conditions, and some of the medications to manage them could reduce your mouth's saliva flow. Because saliva fights dental infections and helps restore enamel after acid attacks, "dry mouth" can increase your disease risk. If you're noticing this, speak with your doctor about your medications, ask us about saliva boosters, and drink more water.
Finally, have any existing restorations checked regularly, especially dentures, which can lose their fit. Loose dentures may also be a sign of continuing bone loss in the jaw, a consequence of losing teeth. If so, consider dental implants: The design of this premier tooth restoration can help curb bone loss by encouraging new growth.
There's a lot to keep up with health-wise if you want your senior years to be full of vim and vigor. Be sure your teeth and gums are part of that upkeep.
If you would like more information about protecting your dental health as you age, please contact us or schedule a consultation. To learn more, read the Dear Doctor magazine articles "Understanding Aging Makes Beauty Timeless" and "Dry Mouth: Causes and Treatment for This Common Problem."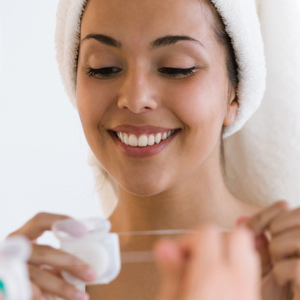 For best results in cleaning your teeth of disease-causing plaque you need both the power of brushing open teeth surfaces and flossing in between them. But you may be wondering: should you perform one task before the other?
In general terms, no—there's no solid evidence that flossing is better before brushing, or vice-versa. But that being said we do recognize each way has its own advantages.
If you floss before brushing, it's possible you could loosen plaque that can then be easily brushed away when you perform your second hygiene task. Flossing first can also reveal areas that need a bit more attention from brushing if you suddenly encounter heavy particle debris or you notice a little bit of blood on the floss. And, by flossing first you may be able to clear away plaque from your tooth enamel so that it can more readily absorb the fluoride in toothpaste.
One last thing about flossing first: if it's your least favorite task of the two and you're of the "Do the Unpleasant Thing First" philosophy, you may want to perform it before brushing. You're less likely to skip it if you've already brushed.
On the other hand, flossing first could get you into the middle of a lot sticky plaque that can gum up your floss. Brushing first removes a good portion of plaque, which can then make flossing a little easier. With the bulk of the plaque gone by the time you floss, you'll not only avoid a sticky mess on your floss you'll also have less chance of simply moving the plaque around with the floss if there's a large mass of it present.
It really comes down to which way you prefer. So, brush first, floss last or vice-versa—but do perform both tasks. The one-two punch of these important hygiene habits will greatly increase your chances for maintaining a healthy mouth.
If you would like more information on effective oral hygiene, please contact us or schedule an appointment for a consultation.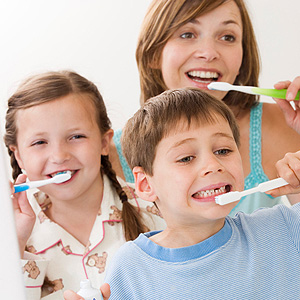 From the time they're born, you do everything you can to help your children develop a healthy body. That should include their teeth and gums. It's not over-dramatizing to say that what you do now may set the pattern for a healthy mouth for the rest of their life.
Here, then, are 4 things you should be doing for your children's oral health before they begin school.
Train them to brush and floss. Good hygiene habits have one primary purpose — remove dental plaque, a thin film of bacteria and food particles that builds up on tooth surfaces. Plaque is the number one cause of tooth decay and periodontal (gum) disease, so focus on brushing and later flossing as soon as their first teeth appear in the mouth, gradually training them to perform the tasks themselves. You can also teach them to test their efforts with a rub of the tongue — if it feels smooth and "squeaky," their teeth are clean!
Keep your own oral bacteria to yourself. Children aren't born with decay-producing bacteria — it's passed on to them through physical contact from parents and caregivers. To limit their exposure to these "bad" bacteria, avoid kissing infants on the lips, don't share eating utensils and don't lick a pacifier to clean it off.
Eat healthy — and watch those sweets. Building up healthy teeth with strong enamel is as important to decay prevention as daily hygiene. Be sure they're getting the nutrients they need through a healthy diet of fresh fruits and vegetables, protein and dairy (and set a good example by eating nutritiously too). Sugar is a prime food source for bacteria that cause tooth decay, so avoid sugary snacks if possible and limit consumption to mealtimes.
Wean them off pacifiers and thumb sucking. It's quite normal for children to suck pacifiers and their thumbs as infants and young toddlers. It becomes a problem for bite development, though, if these habits continue into later childhood. As a rule of thumb, begin encouraging your children to stop sucking pacifiers or their thumbs by age 3.
If you would like more information on promoting your child's dental health, please contact us or schedule an appointment for a consultation. You can also learn more about this topic by reading the Dear Doctor magazine article "Help your Child Develop the Best Habits for Oral Health."