Posts for tag: oral health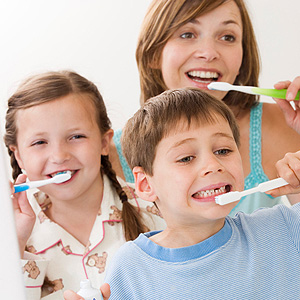 From the time they're born, you do everything you can to help your children develop a healthy body. That should include their teeth and gums. It's not over-dramatizing to say that what you do now may set the pattern for a healthy mouth for the rest of their life.
Here, then, are 4 things you should be doing for your children's oral health before they begin school.
Train them to brush and floss. Good hygiene habits have one primary purpose — remove dental plaque, a thin film of bacteria and food particles that builds up on tooth surfaces. Plaque is the number one cause of tooth decay and periodontal (gum) disease, so focus on brushing and later flossing as soon as their first teeth appear in the mouth, gradually training them to perform the tasks themselves. You can also teach them to test their efforts with a rub of the tongue — if it feels smooth and "squeaky," their teeth are clean!
Keep your own oral bacteria to yourself. Children aren't born with decay-producing bacteria — it's passed on to them through physical contact from parents and caregivers. To limit their exposure to these "bad" bacteria, avoid kissing infants on the lips, don't share eating utensils and don't lick a pacifier to clean it off.
Eat healthy — and watch those sweets. Building up healthy teeth with strong enamel is as important to decay prevention as daily hygiene. Be sure they're getting the nutrients they need through a healthy diet of fresh fruits and vegetables, protein and dairy (and set a good example by eating nutritiously too). Sugar is a prime food source for bacteria that cause tooth decay, so avoid sugary snacks if possible and limit consumption to mealtimes.
Wean them off pacifiers and thumb sucking. It's quite normal for children to suck pacifiers and their thumbs as infants and young toddlers. It becomes a problem for bite development, though, if these habits continue into later childhood. As a rule of thumb, begin encouraging your children to stop sucking pacifiers or their thumbs by age 3.
If you would like more information on promoting your child's dental health, please contact us or schedule an appointment for a consultation. You can also learn more about this topic by reading the Dear Doctor magazine article "Help your Child Develop the Best Habits for Oral Health."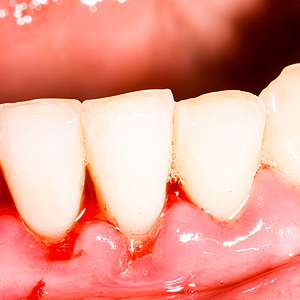 Periodontal (gum) disease is a devastating infection that eventually causes tooth loss if not treated. Plaque removal, antibiotics and possible surgical intervention have proven quite effective in stopping the infection and restoring diseased tissues; however, the more advanced the disease, the more difficult it can be to treat. It's important then to know the warning signs of gum disease.
Bleeding gums are the most common early sign of gum disease. The infection triggers tissue inflammation, the body's defensive response to isolate and fight bacteria. As the inflammation becomes chronic, however, it can weaken the gum tissues, which will then bleed easily.
Bleeding, though, is often overlooked as normal, perhaps from brushing too hard. In actuality, bleeding gums is not normal: if your gums routinely bleed during normal brushing and flossing, you should contact us for an examination as soon as possible. Similarly, if your gums are red, swollen or tender to the touch, this is also a sign of inflammation and an indication of infection.
Gum disease is often called a "silent" disease, meaning it can develop without any indication of pain or discomfort. Sometimes, though, bacteria can concentrate in a particular portion of the gum tissue to form a periodontal abscess. In this case, the abscessed tissue can become very painful, swollen and red, and may even discharge pus.
There are also advanced signs of gum disease. If your teeth are painfully sensitive when you brush, consume something hot or cold, or when you bite down, this may mean the gums have pulled back (receded) from the teeth and the highly sensitive dentin and roots are now exposed. Teeth that appear to have moved or that feel loose may mean the gum tissues have significantly detached from the teeth as increasing amount of bone loss occurs. If you see any of these signs you should contact us without delay.
Regardless of the level of disease advancement when diagnosed, prompt treatment should begin as soon as possible. This is the only way to bring the infection under control and give the gum tissues a chance to heal and rejuvenate. From then on, it's a matter of renewed dental hygiene, frequent cleanings and checkups and an ever vigilant eye for signs of returning infection.
If you would like more information on the diagnosis and treatment of gum disease, please contact us or schedule an appointment for a consultation. You can also learn more about this topic by reading the Dear Doctor magazine article "Warning Signs of Periodontal (Gum) Disease."
Want to give your kids the best start possible for a lifetime of good dental health? The most important thing you can do is train them in effective brushing and flossing. It's more than having a nice smile and fresh breath: these hygiene tasks remove the daily buildup of bacterial plaque, the primary cause for both tooth decay and periodontal (gum) disease, which are most responsible for poor oral health.
But those aren't the only habits they should be cultivating. Here are 3 tips for helping your child develop great dental health habits.
Encourage healthy eating. Teeth and gums are like other parts of the body: they need the "building blocks" found in nutritious foods to help grow strong, healthy tissues. By focusing on a diet leaner on processed items and richer in whole, less-processed vegetables, meats and dairy products, you'll be helping your child build strong defenses against dental disease.
Keep sugary snacks under control. Of all the items in your child's diet, sugar could have the greatest impact on their teeth. Disease-causing bacteria thrive on this particular carbohydrate, multiplying and producing mouth acid—the main enemy of tooth enamel—as a byproduct. So, limit sugary snacks as much as possible, opting instead for more nutritional between-meal treats. In fact, try to make sure they only consume sugary treats at mealtime, not in between.
Encourage an end to thumb-sucking or pacifiers by age 3. Most infants and very young children suck their thumbs or, alternatively, a pacifier. There's no harm in this habit unless it extends into later childhood where it could affect their bite. You can avoid this outcome by encouraging your child with mainly positive reinforcement to stop sucking their thumbs or other objects before their third birthday. Your dentist can also help with tips and support in those efforts.
If you would like more information on dental care for your child, please contact us or schedule an appointment for a consultation. You can also learn more about this topic by reading the Dear Doctor magazine article "Help your Child Develop the Best Habits for Oral Health."