Posts for tag: gum disease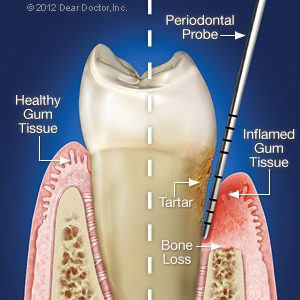 When we refer to periodontal (gum) disease, we're actually talking about a family of progressive, infectious diseases that attack the gums and other tissues attached to the teeth. Caused primarily by bacterial plaque left on tooth surfaces from inefficient oral hygiene, gum disease can ultimately lead to tooth loss.
There's only one way to stop the infection and restore health to diseased tissues — remove all of the offending plaque and calculus (hardened plaque deposits) possible from tooth and gum surfaces, including below the gum line at the roots. The basic tools for this task are specialized hand instruments called scalers or ultrasonic equipment that vibrates plaque loose. A series of cleaning sessions using these tools could stop the infection and promote healing if followed with a consistent, efficient daily hygiene habit.
There are times, however, when the infection has progressed so deeply below the gum line or into the tissues that it requires other procedures to remove the plaque and infected tissue. One such situation is the formation of an abscess within the gum tissues, a pus-filled sac that has developed in response to infection. After administering local anesthesia, the abscess must be treated to remove the cause and allow the infectious fluid to drain. The area is then thoroughly flushed with saline or an antibacterial solution.
The gum tissues are not completely attached to the tooth surface for a small distance creating a space. These spaces are called periodontal pockets when they are inflamed and continue to deepen as the disease progresses. These inflamed and sometimes pus-filled pockets form when tissues damaged by the infection detach from the teeth. If the pockets are located near the gum line, it may be possible to clean out the infectious material using scaling techniques. If, however, they're located four or more millimeters below the gum line a technique known as root planing may be needed, where plaque and calculus are shaved or "planed" from the root surface. As the disease progresses and the pockets deepen, it may also be necessary for surgical intervention to gain access to the tooth roots.
To stop gum disease and promote soft tissue healing, we should use any or all treatment tools at our disposal to reach even the most difficult places for removing plaque and calculus. The end result — a saved tooth — is well worth the effort.
If you would like more information on treating periodontal disease, please contact us or schedule an appointment for a consultation. You can also learn more about this topic by reading the Dear Doctor magazine article "Treating Difficult Areas of Periodontal Disease."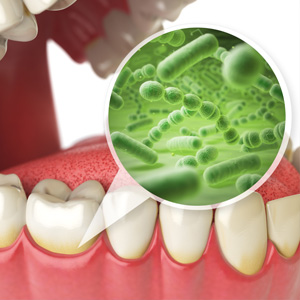 Here's a sobering statistic: you have a 50/50 chance over your lifetime for developing periodontal (gum) disease. And it's much more serious than irritated gums: if not treated aggressively you could experience bone loss, which can not only lead to tooth loss but actually increases your risk of heart attack and stroke.
Initially, you may not notice any symptoms unless you know what to look for: mainly red and puffy gums that frequently bleed during brushing and flossing. As the infection advances into the underlying support structures that hold teeth in place you may also notice receding gums (moving away from your teeth causing them to look longer), pus around the gums or lingering bad breath or taste. And one or more loose teeth are a definite sign the supporting structures have weakened severely.
So, how does gum disease happen? It starts with bacteria. Your mouth contains millions of these and other microorganisms, most of which are friendly and even beneficial. Unfortunately, a fraction of them can infect and harm tissues like the gums and underlying bone. Your mouth's defenses can normally handle them if their numbers remain low. But a bacterial population explosion can quickly overwhelm those defenses.
Bacteria are like any other life form: they need a secure environment and food. Disease-causing bacteria establish the former by utilizing proteins and other components of saliva to form a sticky biofilm on teeth known as plaque. Within the safe haven of dental plaque bacteria quickly multiply and form a complex and concentrated ecosystem feeding on remnant food particles, especially sugar and other carbohydrates.
The key to gum disease prevention (as well as treatment) is to deprive bacteria of their home and food source by removing plaque and its more hardened form calculus (tartar). You can manage plaque buildup by brushing and flossing daily, seeing your dentist regularly for cleanings to remove any remaining hard-to-reach plaque and calculus, and eating a nutritious diet with fewer sweets or other carbohydrate-rich snacks.
You can further lower your disease risk by avoiding smoking and other tobacco products and moderating your consumption of alcohol. And be sure to see your dentist as soon as possible if you notice any signs of infection with your gums. Taking these steps can help you avoid gum disease's destructiveness and help preserve a healthy and attractive smile.
If you would like more information on gum disease, please contact us or schedule an appointment for a consultation.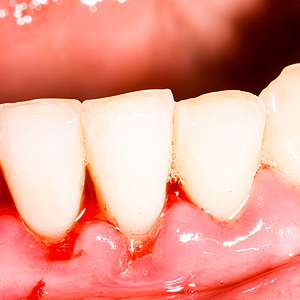 Periodontal (gum) disease is a devastating infection that eventually causes tooth loss if not treated. Plaque removal, antibiotics and possible surgical intervention have proven quite effective in stopping the infection and restoring diseased tissues; however, the more advanced the disease, the more difficult it can be to treat. It's important then to know the warning signs of gum disease.
Bleeding gums are the most common early sign of gum disease. The infection triggers tissue inflammation, the body's defensive response to isolate and fight bacteria. As the inflammation becomes chronic, however, it can weaken the gum tissues, which will then bleed easily.
Bleeding, though, is often overlooked as normal, perhaps from brushing too hard. In actuality, bleeding gums is not normal: if your gums routinely bleed during normal brushing and flossing, you should contact us for an examination as soon as possible. Similarly, if your gums are red, swollen or tender to the touch, this is also a sign of inflammation and an indication of infection.
Gum disease is often called a "silent" disease, meaning it can develop without any indication of pain or discomfort. Sometimes, though, bacteria can concentrate in a particular portion of the gum tissue to form a periodontal abscess. In this case, the abscessed tissue can become very painful, swollen and red, and may even discharge pus.
There are also advanced signs of gum disease. If your teeth are painfully sensitive when you brush, consume something hot or cold, or when you bite down, this may mean the gums have pulled back (receded) from the teeth and the highly sensitive dentin and roots are now exposed. Teeth that appear to have moved or that feel loose may mean the gum tissues have significantly detached from the teeth as increasing amount of bone loss occurs. If you see any of these signs you should contact us without delay.
Regardless of the level of disease advancement when diagnosed, prompt treatment should begin as soon as possible. This is the only way to bring the infection under control and give the gum tissues a chance to heal and rejuvenate. From then on, it's a matter of renewed dental hygiene, frequent cleanings and checkups and an ever vigilant eye for signs of returning infection.
If you would like more information on the diagnosis and treatment of gum disease, please contact us or schedule an appointment for a consultation. You can also learn more about this topic by reading the Dear Doctor magazine article "Warning Signs of Periodontal (Gum) Disease."